---
---
Faux Finish
(800) 718-3806
---
How a Faux Finish Can Improve a Room
You've covered or removed the furniture from the room. The walls have been washed vigorously with water and a small amount of dish liquid. Then you wiped them down with clean water. You've taken your handy little putty knife and applied spackle to fill any holes in the wall. After the walls dried, you taped off all the moldings so you wouldn't get the paint and Faux Finish on the wood. Now you're ready to apply your primer paint and base color paint. Then it will be time to apply you Faux Finish.

You do a Faux Finish by applying a glaze over a base colored paint. The color of paint and Faux Finish glaze you use depends on the look you are going for. If you want your room to have the rich look of leather you can use as a base paint color, anything from sandy brown, deep blues and greens. The Faux Finish for this project can be a rich hue of mahogany or rich hues of reds.

Use a two inch angle Nylon Polyester paint brush or a three to four inch brush if areas are large. Or you can also use a standard nap 3/8 inch roller for the large areas. If you buy one with an extender handle you want have to use your ladder as much. You should have a paint mixing tool that will work on your drill to stir the paint. It should take you about a day to do the basic painting now it's time to apply your faux finish.
---
---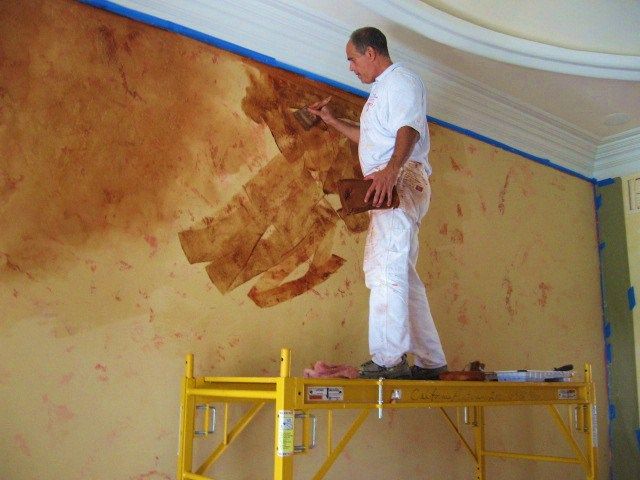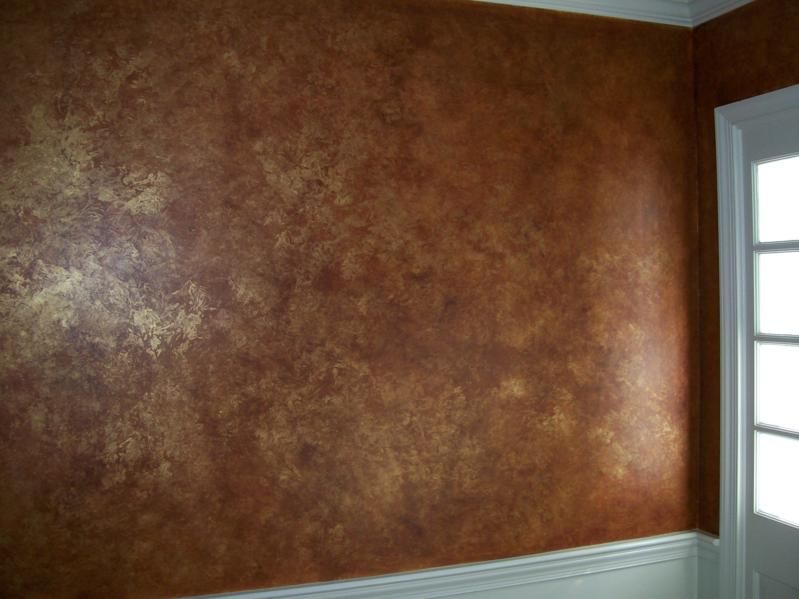 ---
You'll need a large Faux Finish stippling brush to do the large area and you'll need a small Faux Finish corner stippling tool to finish the corners. You'll need your roller and a lint free rag. Now you poor a large amount of your Faux Finish glaze in your lined paint pan. Then you saturate the roller with the Faux Finish glaze, because you will be working fast, applying The Faux Finish to one whole wall at a time. You must keep your movements steady and fluid. Then you can use your corner stippling tools for the corners. Do this again to the next wall until the room is finished.

After removing the masking tape while the wall is still wet, gaze up on a job well done. There's not a better way to change and warm up a room as when you apply rich leather Faux Finish. Don't like the leather Faux Finish look. Well there are several Faux Finish looks. You can use sponges to apply a Faux Finish Glaze. Maybe gold glazes over a soft yellow base paint. Always remember if you use this style to apply your Faux Finish glaze, to move quickly and cover the wall evenly.

You can also use tape to do stripe using Faux Finish over paint. Just make sure your tape is straight. You can also use Faux Finish with stencils to get all kinds of designs. You can even print things off your computer to use as stencils. If you're using your copier you should probably print line designs in case your ink runs. The best way to perk up a dull or dark room is a paint job. Faux Finish Glazing is one way to go, because you have so many styles you can choose from. It can be a little extra work, but it is a beautiful way to change the look of your home.
---
Faux Finish